Welcome to a Journey in Search of Your Mayflower Ancestors
We are a non-profit, independent, hereditary society dedicated to preserving the history of our Mayflower ancestors through genealogical and historical research. Our society, founded in 1901, has over 1,000 current members. In association with the General Society of Mayflower Descendants, we offer membership events which include historical and educational speakers.
You may be eligible to join the Society of Mayflower Descendants in Michigan if you can document your descent from one of the passengers on the Mayflower voyage in 1620. Check our membership page for a list of Mayflower passengers with known descendants and for information on how to start the application process.
We hope that you will take a few moments to explore our site, find a Pilgrim in your lineage and consider joining our organization.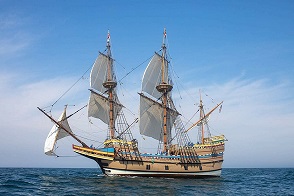 PHOTO CREDIT: Banner image is Mayflower II, docked at the state pier in Plymouth. Thank you to photographer Janice Drew for the professional photos throughout our website.